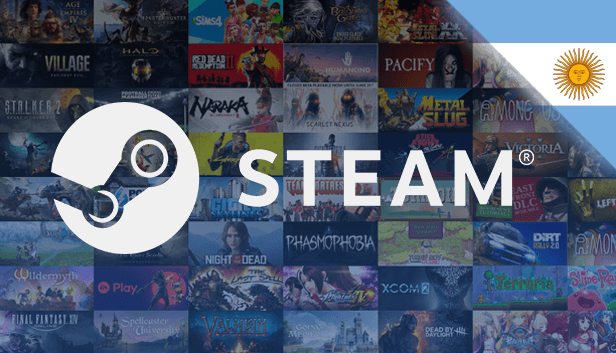 Create your Steam Argentina 🇦🇷 account from any country
Argentina, a country that's known it's soccer players, it's economic crisis and for having one of the cheapest stores in the world, as can be seen on SteamDB.
First, it has to be known that's not possible from a player based in Argentina to send you a gift if you live in the US, Europe or Asia. That's because when price difference is above 5% the system blocks you from sending gifts to other countries.
You should opt for other methods, such as creating a new Steam Argentina account from scratch. Fortunatelly, this is still possible.
How to change a Steam account to Argentina
Some time ago you could change your Steam region by using a VPN + Gift Card in ARS (Argentina's currency) but today is only possible using local credit cards.
It's not a big deal, because you can still register an account from zero in Argentina and still enjoy the best discounts from this region. The trick is to use a VPN, but one that provides residential IP's, not just anyone.
Hola VPN is a popular VPN service that assigns residential IP's (from homes) as it's based on a P2P network. It has a free plan which serves pretty well for our purpose.
You can download Windows client here. Also available for MAC devices & game consoles.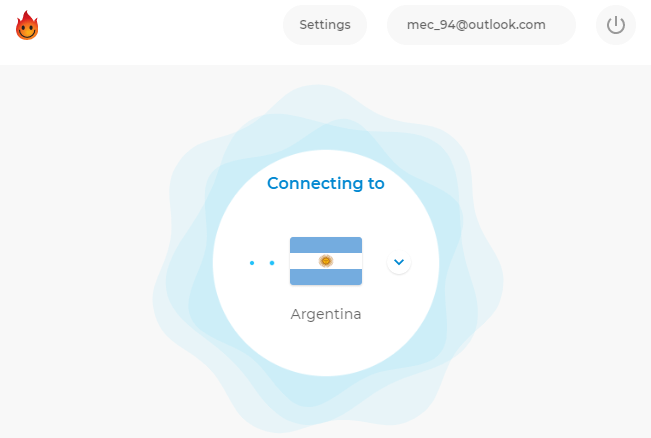 In order to start using Hola VPN, you must register an account. You can quickly register with your Facebook or Google profile to speed up the process. After confirming your free subscription, just search for Argentina in the list of countries and after some seconds you should be connected.
If you're already paying for a VPN subscription with 🇦🇷 IP's, make sure they're residential and not from datacenters. Check it here.
Once you're connected to Argentina with VPN, just start your desktop Steam client and proceed to register an account as you would normally do. But first make sure you're logged out from your current account.
Note: VPN is only necessary during registration. After you finish registering your account and loading your first funds, it won't be needed to use VPN in the next sessions.
How to buy in the Steam Argentina store?
The latest changes in Steam policy means that you should use a payment method from the same region as configured.
As example, if you're from UK, you won't be allowed to use a credit card from your country to make a purchase in the Steam store from Germany.
This is when the Steam Gift Cards in ARS come at our rescue. In it's digital form, you can purchase these cards from anywhere and then use them to load funds into your Argentina account.
Steam Gift Card ARS (Argentina)
To load funds into your Steam Argentina account, when you're into the session go to the upper right corner and click on Account Details, then you''ll find the option to "Add funds to your Steam Wallet" in first section with cart icon.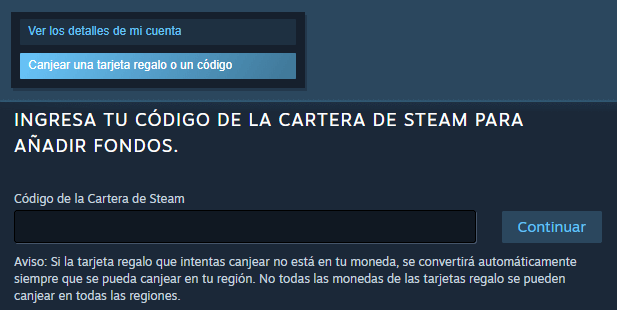 Video tutorial
To make things clearer we share a video that explains the step-by-step process. It's in Spanish, but the process is pretty straightforward so it won't be confusing.
Frequent Doubts
How do Steam Wallet Cards from Argentina work?
Like all Steam Cards, the ones in Peso Argentino (ARS) come in several denominations. They serve as an alternative method to add funds without using a local credit card.
You can spend it in the market or in the store, so don't worry about that because it has the same value as credit card funds.
Most of these cards are sold in it's digital form, so you receive the codes by email with instant delivery. The max value of a Steam Argentina Wallet Card is 1000 ARS, which costs around 10 USD.
But.. ¿Why is Steam Argentina so cheap?
First, it's good to understand how Steam defines prices. Developers initially stablish a price based in USD for it's games, and then Steam calculates it for other regions. Of course, the publisher can push to change suggested prices but Steam has the last verdict.
As Steam already knows, Argentina has a confiscatory taxation system and low purchasing power, so they have to set product margins below average if they want to sell games.
Well, i hope this post helped to clarify why Steam Argentina has such interesting prices and what's the current way of creating an account from anywhere. Any comments and suggestions are appreciated.